Big-Crew: Those that are fortunate enough to own an Asphalt Jungle sweatshirt can tell you of the comfort, feel and assurance they get from putting one on each day. So run with the pack to own this classic crewneck sweatshirt.

Style #A1561 The Big-Crew Sweatshirt. Features: 100% preshrunk cotton, 11 oz. heavyweight pigment-dyed, full cut, narrow 1x1 rib knit trim collar, cuffs and bottom band, double needle stiching throughout.
Color: Brick, Denim, Mocha, Moss Green, Mustard, Smoke, Washed Plum, Yam, Celery, Periwinkle. Logos: Large Script, Oval Script, Trademark
Sizes: M-L-XL-2XL
Price: $35.00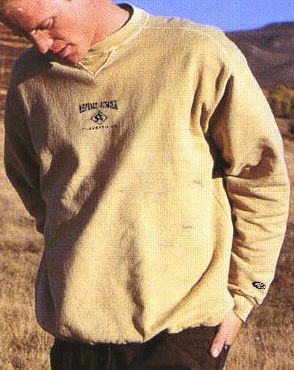 Varsity Crew: If you are into athletics and miss your old college sweatshirt, then you will want to add this to your keepsakes. This sweatshirt is so ruggedly constructed, you'll wear it for years.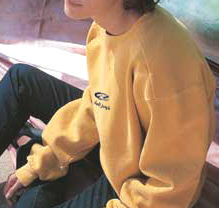 Style #A1975 Authentic Pigment Fleece Crewneck. Features: 80% heavyweight cotton, 20% polyester, pigment-dyed, generously cut, forward rolled shoulders, locker patch, 2x1 rib knit trim, collar and cuffs, double needle throughout. Colors: Black, Brick, Denim, Goldenrod, Khaki Green, Mocha, Moss Green, Mustard, Navy, Periwinkle, Poppy, Smoke, Spruced Teal, Washed Plum, Watermelon, Celery, Nautical Red. Sizes: S, M, L, XL, 2XL. Logos: Large Script, Oval Script, Trademark
Price:$35.00